For the first four months of blogging, I didn't even know "blog hops" existed. I thought
blogging
was about
writing
. Silly Moo Cow.
Blogging is
social
. Problem is, I'm not. And as I've said before, I'm sort of a
bad mom blogger
-- I don't do crafts or sparkles, mainly because I don't want to hurt anyone's eyes with my catastrophes. (You're welcome. I'm anti-social, not sociopathic.)
Anyway, last fall I lost my blog hop virginity (in a three-way!) to Janene and Christine of
More Than Mommies
(MTM). At the MTM Mixer, I found some great bloggers whom I still follow today, including our co-hostess
Meredith at The Mom of the Year
.
I was excited. I'd hit pay dirt. I'd figured out The Blogging.
Wrong again, Moo Cow. Turns out, not all hops are created equal. I know I am going to be excoriated in the mom-blogosphere, but truly, there is a lot of shit out there. Not to mention the bloggers who just link-dump-and-run.
Honey Badger
don't have no time for that.
Luckily, I've ferreted out some great blog hops with quality posts, including the ones listed at the bottom of the page as well as others like
Twisted MixTape Tuesdays
. I link up when I can. But MTM will always be my first.
That's why today is special. Today, I lose my blog hop hosting virginity to -- once again -- More Than Mommies. That's right, say hello to this week's Mixologist.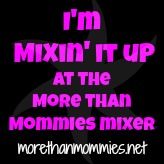 So, hi! If I haven't offended you too much, feel free to check out my story, some of my popular posts over there in the sidebar and other stuff I write.
Then scroll down to link up and have fun!
MORE THAN MOMMIES MIXER
Here are the "rules." (Don't make us post bouncers at the door.)
Follow the Life of The Party - Serena at Operation: BHM - We will choose our Next LOTHP from those who link up their twitter handle. Use our hashtag #MTMmixer when tweeting.
Follow our Mixologist (that's me!) - This week our Mixologist is Deb at Urban Moo Cow - Every week we will choose one participant to get our party started at the #4 slot. All you have to do is link up under the first Linky (and follow the "rules") to be considered!
Follow the person directly BEFORE you on the hop!
Finally, we ask that you post the following button in either a post or on your sidebar to let other people know where you are partying today!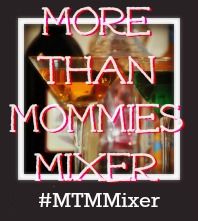 Link your Blogs up HERE: Link your G+ Profiles HERE: Link your Facebook Pages HERE: Link your Twitter Handles HERE: Link your Pinterest Boards HERE: