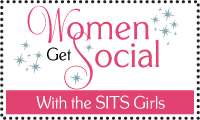 To my regular readers:
Today is my SITS day!
What is that, you say? I thought you'd never ask.
Here is an excerpt from
The SITS Girls' About page
:
When The Secret is in the Sauce (aka The SITS Girls) was founded in 2008, its objective was simple: To create a space where bloggers could find their tribe and grow their audience....
Today, the brand is managed by women who are passionate about blogging and creating a resource for others to find support online and learn the skills they need to become social media savvy. Our network of 40,000 members come to The SITS Girls site to see who we are featuring from the blogging community, learn the technical skills they need to be successful online, and chat in our discussion forum.
The site has tons of tips, tools and tricks for new and seasoned bloggers alike. I only wish I had found out about them
before
I started my blog.
If you are a blogger, you can be featured and showered with love by other bloggers in the community. Go here to sign up!
To my SITS Girls:
Welcome to Urban Moo Cow!
I'm Deb. I live in Brooklyn with my husband, our 14-month old son, Henry, and a neurotic corgi named Hudson. Once, in the sleepless days of Henry's first weeks, I caught my husband beaming at us nursing. You are a very good Moo Cow, he said, kissing me on the head. A nickname was thus born. Urban Moo Cow chronicles my (often humorous, sometimes poignant) transition from young urban professional to young urban professional mom.
You can read more
About the Moo Cow
or just plunge in. Below are some of my favorite posts to get you going, or you can go over to the Label cloud in the sidebar and pick a topic of interest.